SAKI-SP INDUSTRIAL PRINTERS
Drive productivity with the SAKI-SP. Constructed with an all-metal frame and bi-fold door, these printer are durable and allow easy access. The 4.3-inch full-color touch display with intuitive interface makes them easy to use, and shows color-coded printer status alerts. Configure your printer your way with advanced technology, along with two open communication slots. These printers keep your critical operations running efficiently today, and give you the flexibility to add features in the future as you need them.
APPLICATION FLEXIBILITY
Standard USB, Serial, Ethernet, dual USB Host and Bluetooth connectivity options; and two open media slots allow you to add Parallel, Ethernet, applicator interface cards and more. Easily add factory-or field-installable RFID encoding options for either general purpose UHF RFID tags or thicker on-metal tags. End user installable media handling options allow you to customize your printer to match your current and future business needs.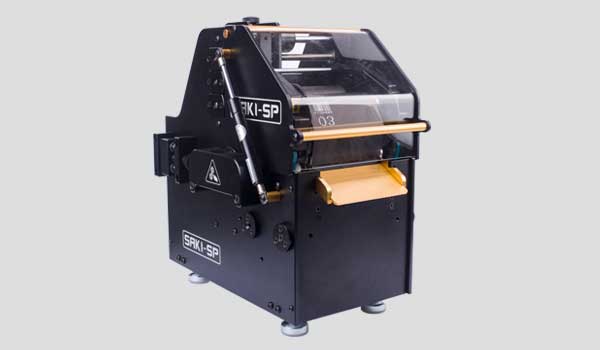 SAKI-SP SINGLE TAG PRINTER
For single – sheet tags
Max. printing width – 104 mm
SAKI-SP
Main Features
Simple input system and modular design make management with ease.
Strong and durable structure to adapt to different working environment.
Unique horizontal and vertical material adjustment, adapt to different tag specifications.
High speed and stable printing performance, effectively reduce the labor cost.
High resolution, precise and convenient adjustment, simple, safe and easy to operate.
Comes with free design and print software, accessible to Excel and CSV data file.
Easy Maintenance
Open structural design, simple and easy to replace the material. The open print head structure helps user to clean and repair conveniently.
Fast and High Quality
The flat head type – both direct thermal and thermal transfer printing, 300 dpi high resolution and unique IC control enable high speed, high quality and durable printing.
Long Printer Head Life
Printing position can be adjusted left and right along 104 mm, fully utilize the entire width, greatly improve the running life of printer head.